Welcome to the Jersey subdivision of Norfolk Southern
Construction History Locomotive Roster Rolling Stock Locomotive Pictures and Sounds
Model Railroad Links Tips and Techniques
The Jersey subdivision is a coal, freight and intermodal operation but make no mistake, coal is king here. This subdivision has been under major construction for a few years. The Jersey Subdivision is built upon a two level layout, with the lower level being a staging facility.
Here is the current track plan: (Click on thumbnail to see larger view)

10/8/2006 - (the upper level file has been modified) Click here to see prior versions
Scenery work is in high gear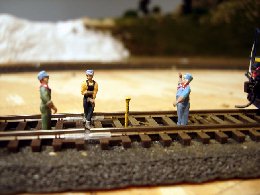 4/28/2013 Demolition of the Jersey Subdivision is underway. After a couple of false starts, the new home for the improved Jersey Subdivision has been located. As before, it will be at least 4X larger than the current Jersey Subdivision. Planning will begin later summer and construction could begin before 2014. Stay tuned for updates. Click on the link to see the demolition progress,
2/24/2013 It's been quite awhile since an update has been posted here. The bad news is that the Jersey subdivision is currently under demolition. The good news is that it will be moving to a new home soon with a much larger space, more than 4X of the current space. Once the move is complete it will be back in a much bigger and better form, with a complete redesign. The basic principles will remain, with the Jersey subdivision remaining focused on coal, intermodal and modern large horsepower diesels. Watch for new track plan proposals to appear here in a few months.
12/5/2009 The locomotive crew continues with sound decoder upgrades and readies two Kato SD80MACs for the paint shop.
7/17/2009 The locomotive crew delivers another C40-9W from the shop with fresh paint, a new sound system and many new details.
6/17/2009 The crew made the trek to Altoona and Horseshoe Curve. Click here to see the adventure.
5/8/2009 Another repaint job is completed by the locomotive crew.
3/23/2009 The locomotive crew finishes repainting a Southern Pacific C44-9W to Norfolk Southern roadname.
1/18/2009 A few new locomotives show up from other Class 1 railroads. The electrical crew also adds push-button controls for the staging areas
Check back regularly. Now that construction has resumed, updates will be posted more regularly.